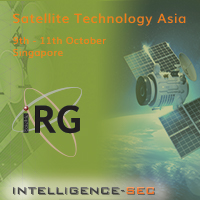 Singapore, Singapore
9th October 2018 - 11th October 2018
Satellite usage is increasing yearly and more countries are now able to send satellites up into space for imagery, weather, surveillance and broadcasting purposes. However, with the increase in satellites orbiting around Earth this causes other issues such as space debris and interference.
Satellite Technology Asia will look into the use of satellites by Asian nations and the developments being made to satellites. As well as looking into the civil use of satellites the event will also look into the importance of satellites for the military and governments of Asia.
With the increase in satellites orbiting Earth many nations are now having to depend on Space Situational Awareness (SSA) which is key to avoiding large space debris. We have seen in recent years satellites becoming damaged and large pieces of debris coming back down to Earth.
Other areas that will be analysed during the two-day conference and exhibition is the future of satellites and the developments of 5G and HTS satellites and what is coming next.
We are pleased to announce that our inaugural Satellite Technology Asia conference and exhibition will take place in Singapore between the 9th and 11th October 2018.
To be part of our international Satellite Technology Asia event either as a speaker, sponsor/exhibitor or delegate please email us on This email address is being protected from spambots. You need JavaScript enabled to view it. or call us on +44 (0)1582 346 706