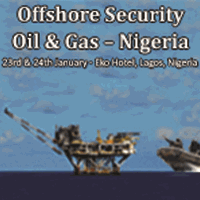 Offshore Security :Oil and Gas
Date : 23rd and 24th January 2014
Venue: Eko Hotel and Suites
Place : Lagos,Nigeria
Contact name: Mohita Bhimsaria
Contact No. +91 80 49331000
Nigeria, known as "the Giant of Africa", is the most populous country in Africa the largest oil producer in Africa.
The Nigerian Oil industry is plagued by several challenges to achieve its maximum output potential. NISPANA INNOVATIVE PLATFORMS as a company has identified that its conducive to address these security risks and problems which are affecting the Oil industry of the Republic Of Nigeria, and hence has conceptualized the first Offshore Security- Oil and Gas -Nigeria Summit on the 23rd -24th of January at EKO HOTEL & SUITES, LAGOS, NIGERIA. This summit will determine and focus to give an insight into the current security challenges and environmental issues faced by the oil companies operating out of Nigeria.