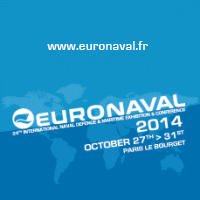 PARIS LA BOURGET, FRANCE
27th to 31st OCTOBER 2014
Event Overview
At its 23rd edition, Euronaval confirmed its position as a world first class event in naval defence and maritime safety and security and a promoter of innovation.
With 30,458 professional visits from 115 countries, without counting official delegations, interest in this exhibition of reference has shown significant increase. Just after France, Russia recorded the highest visitor participation, followed by Italy, Germany, and the United Kingdom. Large and midcap companies scored for 68% of attendances, and small to medium and very small enterprises accounted for 32%. 
The 2012 exhibition was marked by two important features: the presence of very
high-level foreign delegations with strong decision-making roles in their countries' acquisition programmes, and the significant increase in the number of official delegations, confirming the interest of decision-makers worldwide in this event.
Euronaval once again proved itself to be an international Naval Defence and Maritime Safety and Security venue capable of bringing together decision-makers, buyers and suppliers from around the world. This event similarly shows that the naval defence sector is generally healthy on an international scale, despite the difficult economic climate in Europe.
{facebookpopup}