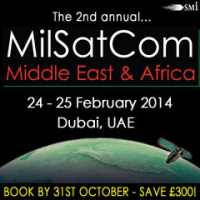 Dubai, United Arab Emirates
24th February to 25th February 2014
Event Overview
The Middle East and Africa face extensive security challenges and SatCom technology provides enhanced capability for tackling the prevalent border surveillance and deployed operations issues in the region.
The upgrading and maintaining of communications systems has therefore become a key objective for contingent states. 
This prioritising of communications systems, particularly satcom means there is a need for increased learning in this area. It is for this reason that we have brought SMi Group's MilSatCom Middle East & Africa Eventagain to Dubai this year.
Our 2nd Annual MilSatCom Middle East & Africa 2014 event in Dubai, the business hub of the Middle East,  will be focusing on the future of MilSatCom. The key to the future of MilSatCom is learning from each other to further the industry therefore this year's event will have a particular focus on bringing expertise and accelerating learning about this sector in this region. The agenda will be made up of representatives with experience in diferent areas of MilSatCom from the operational use of MilSatCom to the development of the satellites themselves. There will be presentations from those with developed MilSatCom capability along with those along with those who are looking to expand their capability and break into the market. With the key players from both the military and the satcom solution providers present, MilSatCom Middle East & Africa is the place to be to accelerate your learning and meet the opinion-leaders in this market.
---
The 2nd annual conference on...
MilSatCom Middle East & Africa
24 - 25 February 2014
Amwaj Rotana, Jumeirah Beach Residence | Dubai, UAE
Sponsored by: Airbus Defence & Space, Harris Caprock, L-3 GCS, SSL,
Thales Communications, VASTech and Vocality
www.milsatcom-mea.com
---
Complimentary guest places available for Military, Government & Public Sector (please see below for details)
Al Mussalh readers receive 

£300 discount

 |  Register online & quote SMI7B2E
We are delighted to invite you to attend the 2nd annual MilSatCom Middle East & Africaconference.
The two day conference will bring together the industry's leading experts and senior military representatives to examine the latest developments and strategies that will shape the future of the military satellite communications industry. Click here for an event update.

Join leading industry experts, senior military figures, SatCom solution providers and government representatives involved in satellite communications, emerging markets, strategy, technological developments, capabilities and MilSatCom operations. 

Book your place today - click here (quote SMI7B2E to receive £300 discount)

How to reserve a VIP guest place
We have limited guest passes available for Military, Government and Public Sector.
If you would like to attend as our guest, please 

This email address is being protected from spambots. You need JavaScript enabled to view it.

 the team or call +44 (0) 207 827 6054 to guarantee your place.

Confirmed attendees include:
Airbus Defence & Space

APS Air Parts Services & Supplies

Armed Forces of Nigeria

Astrium

Avanti Communications Group

Bala & Sethu Legal Consultants

EIAST

Embassy of India

Embassy of Ukraine

General Atomics Aeronautical Systems

General Atomics Aeronautical Systems Inc

Global VSAT Forum

Harris CapRock

Horizonsat

L-3 Global Communications Solutions

LSE Space Dubai

MEconnect

National Authority for Remote Sensing and Space Sciences

Northern Sky Research

Royal Navy of Oman

Space & Upper Atmosphere Research Commission (SUPARCO)

Space Policy Institute

SSL

Strategic Command of Pakistan

Tanzania Peoples Defence Forces

Tanzanian People's Defence Forces

Thales Communications & Security

UAE Armed Forces

UAE Centre of Excellence and Development (CoE)

US Dept of Defense

VASTech

ViaSat

Vocality

XTAR, LLC
Our expert speaker line-up includes:
Brigadier Syed Zulfiquar Ali, Commander, Strategic Command of Pakistan

Colonel AS Katala, Tanzanian People's Defence Forces

Lieutenant Colonel Ali Alshehhi, Manager Space Reconnaissance Centre, UAE Armed Forces

Omran Sharaf, Director of Space Image Processing & Analysis, EIAST

Group Captain Lanre Ibrahim Oluwatoyin, Director, Directorate of Space Technology, Armed Forces of Nigeria
To view the full event programme and speaker topics, please click here

To secure your attendance visit us online today at www.milsatcom-mea.com
Alternatively contact 

This email address is being protected from spambots. You need JavaScript enabled to view it.

 for further details on: +44 (0) 20 7827 6054.

We look forward to seeing you in Dubai!
The MilSatCom ME&A Team

For details on tailored sponsorship and branding packages contact Alia Malick on:
+44 (0) 207 827 6168 / 

This email address is being protected from spambots. You need JavaScript enabled to view it.
Register online and quote SMI7B2E to receive £300 discount www.milsatcom-mea.com
Contact James Hitchen on tel: +44 (0) 20 7827 6054
or email: 

This email address is being protected from spambots. You need JavaScript enabled to view it.