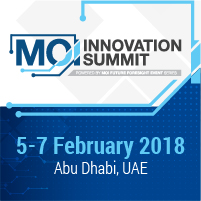 Abu Dhabi, UAE
5-7 February 2018
Under the patronage of His Highness Sheikh Saif Bin Zayed Al Nahyan, Minister of Interior and Deputy Prime Minister of the UAE and Crown Prince of Abu Dhabi, UAE's Ministry of Interior will review the latest technology innovation from around the world at MOI Innovation Summit.
The aim of this summit is to anticipate future challenges and stay one step ahead in order to ensure the security and safety of the UAE.
The summit will take place on 5-7 February 2018 in Abu Dhabi and will be hosted by the Ministry of Interior who will invite senior representatives from the police forces, army, land border agency, municipalities, transport authorities and smart government departments to attend the event.
The latest technologies and innovations in artificial intelligence, robotics, cybersecurity, border security, advanced analytics, mobility, and smart city development will be discussed at the summit.
Why take part in MOI Innovation summit?
The focus and investments on artificial intelligence provide great opportunities for technology and service providers to demonstrate the importance of their solutions and products. The MOI Innovation Summit will help bring together the key government stakeholders to focus their innovation into key areas of development that will ensure these goals are met.
For further information about MOI Innovation Summit, please visit www.moiinnovationsummit.com or contact Malek Obeidy at This email address is being protected from spambots. You need JavaScript enabled to view it..

ACM - Advanced Conferences & Meetings, part of IFP Group, is a premium B2B conferences company focused on the requirements of the MENA region. ACM's specialized events and world-class conferences are highly tailored networking and learning opportunities, bringing senior decision makers together and providing up-to-the-minute information on industry trends, government initiatives, technological advances and developments in regulation. As such, ACM conferences act not only as extremely effective tools for gaining business advantage, but also as high level platforms for change in the industries they serve. Some of the sectors ACM has specialized in: Construction and Infrastructure, Energy and Utilities, Smart Mobility and Transport, Security and Law Enforcement, Technology and Innovation.
Reinforced by profound industry insights and a keen eye for developments in the region, ACM conferences harbor an ideal environment for small, medium and multinational companies to unravel business opportunities, learn about government initiatives, discover latest technologies, promote and sell their products whilst nurturing relations with existing and potential clients.
www.acm-events.com