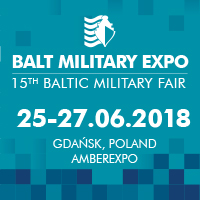 Gdańsk, Poland
June 25-27, 2018
More than 80 companies confirm their participation in 15th edition of the BALT-MILITARY-EXPO Baltic Military Fair, which will take place at the AmberExpo MTG SA Exhibition and Convention Centre in Gdańsk, Poland, June 25-27, 2018.
The 2018 BALT-MILITARY-EXPO exhibition and NATCON conference taking place in Gdansk is set to be the largest event of the Baltic approaches providing the most fresh solutions for maritime defence and protection of critical off shore industry and infrastructure. Organized under the joint patronage of the Polish Ministry of Defence and Inspector of the Polish Navy, BALT-MILITARY-EXPO pretends to be outstanding networking opportunity for enterprises involved in naval defence, maritime safety and security, industry and provider for naval systems, sensors and effectors.
The 2018 BALT-MILITARY-EXPO exhibition will be visited, as usual, by the officer corps and experts of the Polish Navy, Special Operations Command, Armament Policy Department, the Inspectorate for Armed Forces Support, Polish Military Gendarmerie, Police, Border Guard, State Fire Service, Military Attaché Corps and international military experts.
The accompanying event to the XVth Baltic Military Fair BALT-MILITARY-EXPO will be:
The VIIIth NATCON - the international tech-science conference on "Maritime technology for defence and security". The Conference derives from the since 1987 organized by OBR CTM Military Maritime Technology Symposium, which was changed into NATCON Conference organized by OBR CTM and the Naval Weapons Institute of the Polish Naval Academy.
Once again, thanks to the co-operation between OBR CTM S.A., the Polish Naval Academy and Gdańsk International Fair Co.The priority subject matters of the Conference are issues concerning the military maritime technology domain, maritime critical infrastructure protection, as well as safety at sea, including sea rescue.
Another special event will be International Conference and Exhibition of Medical Rescue RESCUE EXPO. That show will focus on medical treatment and rescue workshops. All participants will have opportunity to take part in different tasks, which will have practical matters.
Maritime challenges are being fundamentally transformed by new security endeavors, technological trends, shifting trade and energy concepts, and the enlargement of unconventional threats. The grooving importance of maritime resources and of sea-lane safety, as well as culmination of economic zones expansion along the coasts, has transformed maritime security more critical than ever. The maritime order has marked a turning point of evolutionary change in response to regional and global power shifts. BALT-MILITARY-EXPO and its events organizes strive to build common understanding to identify the new, growing trends and discover the best forecasts of the future, to take advantage of ongoing and future procurement opportunities.
Our show will be accompanied by many events:
- NATCON 2018 International Naval Technology Conference: Marine Technologies for Defence and Security
- RESCUE EXPO International Conference and Exhibition of Medical Rescue
- Rescue and Equipment Show
- Concert and Parade Drill by the Polish Navy Band
- Tactical rescue demonstration
- Counter-terrorist and rescue show on the waters of the Port of Gdynia
- BALT MILITARY EXPO Grand PRIX
- Visit from Official Foreign Delegations
Fairs are open:
25-26 June (Monday-Tuesday)  hours. 10.00-17.00 
27 June (Wednesday), hours. 10.00-16.00
More info:  www.baltmilitary.pl