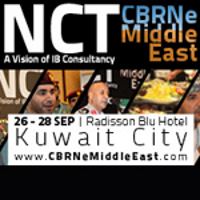 Kuwait City, Kuwait
26-28 September 2016

Event Overview
Join the leading international CBRNe event series for its third edition in the Middle East taking place 26-28 September at The Radisson Blu Hotel in Kuwait City.
NCT CBRNe Middle East is an outstanding opportunity to meet leading international experts, regional decision-makers and first responders in the field of CBRNe defense and response. The conference will provide you with high-level speeches on regional CBRN challenges and threats, approaches and state of the art equipment from CBRN detection to decontamination and recovery, as well as regional capability building and procurement projects. With traditionally high-level speakers from all over the region, NCT CBRNe Middle East is a conference not to be missed. 
The CBRNe threat has been rising in the Middle East with the alleged use of chemical weapons (including chlorine, sarin, mustard gas and phosgene) in the conflicts in Syria and Iraq for the past three years. In addition there are indications of a terrorist organization developing its own chemical weapon production capability and threats to use these weapons in other regions. The Organization for the Prohibition of Chemical Weapons (OPCW) and the Joint Investigative Mission (JIM) are currently investigating the reported incidents and identifying the perpetrators. Collapsing health care systems due to the armed conflicts have increased the risk of outbreaks of infectious diseases. Refugee flows may transfer diseases to neighboring countries and other regions. These developments underline the need for adaptive response mechanism, effective bio-surveillance systems, new vaccines and better treatment methods. The intensified air campaign by the international coalition against Daesh is causing environmental effects and creating long-term health effects for the civilian population. The use of advanced weaponry and prohibited weapons (including phosphorus sulfur, cluster bombs) is contributing to an increasing UXO problem and new health care problems.